Comet Hyakutake Animation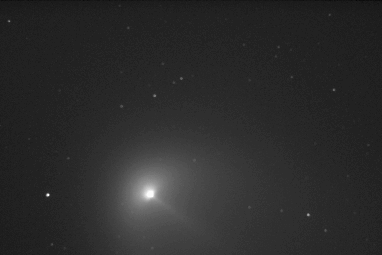 March 28, 1996 - 21:32 to 21:52 PST


Please be patient and wait for the entire file to down load. It may take up to ten minutes at 28.8k baud. Once the image is downloaded to your cache, the animation will begin.
---
This is a time compressed animation which shows the comet Hyakutake moving across a field of stars in the Northern sky during a 20 minute period of time. This 20 minutes is shown compressed to about 6 seconds. The animation was constructed from 62 individual 4 second exposures taken at 40 second intervals. The images were taken with a SBIG ST7 CCD camera through a MaXfield telecompressor attached to a Celestron C8+ telescope. The effective focal ratio was f/3.3. The field of view is approximately 33 x 23 minutes.
Image processing was done by Mira A/P.
Experienced astro photographers will note the slight periodic error in my C8+ drive. Also noticeable is the declination drift which resulted from my 60 second polar alignment technique.
If you have any comments or questions, please feel free to Email me.
-Paul
---
---
---